In Shaa Allah, the Holy Hajj 2023 will take place from June 26th to July 1st. The 28th of June will be Holy Arafat Day.
HAJJ PACKAGE 2023 INCLUSIONS:
Hajj Visa, Air Ticket, Knowledgeable Ameer & Hajj Coordinator, Food, Tents in Mina and Arafat, and all Transfers.

You will travel directly to Hajj from Dubai or Sharjah and return directly to Dubai or Sharjah.

The flights will depart and return from Dubai or Sharjah airports.
In Makkah, we will stay in a 5-star Elaf hotel or similar that is less than 200 meters from Makkah Haram.
We will stay at the 5-star Crowne Plaza hotel or similar in Madinah, which is 200 meters from Haram.
The Hajj visa-issuing authorities may or sometimes request the original passport.
If the original passport is required to obtain your Hajj visa approval, we will notify you and the original passport must be brought to our office.
If your Hajj visa application is denied, you will receive a full refund (Hajj visas will be rejected only for those with any kind of previous blacklist issues in Saudi Arabia).
If you request a refund, you will be charged AED 10,000 and only the balance will be refunded.
if you are looking for Umrah Package or Umrah visa, please follow the below links;
You must be vaccinated with one of the following vaccines: Moderna, AstraZeneca, Pfizer, or Johnson & Johnson, and proof of vaccination must be kept with you.
During the stay in Makkah and Madinah, each room will be shared by four people.
In Aziziyah, one room can accommodate up to six people.
There will be 4 gents in the gents' room and 4 ladies in the ladies' room.
If you want exclusive rooms (2 people in one room), it will cost an additional AED 5,000 per person.
However, if you are a family or group of friends (same gender) of 4, you will not have to pay anything extra for your exclusive room; you will receive a room that will accommodate the 4 of you from your personal group.
This deal includes 3 meals; breakfast, lunch, and dinner. The menu will consist of traditional Indian dishes.
Rice, fish, chicken, mutton, beef, vegetables, fruits, tea, coffee, milk, juices, bread, dosa, parotta, chapati, and other dishes.
HAJJ 2023 PACKAGE RESERVATIONS
We have a limited number of confirmed seats for Hajj 2023, and they will only be available to those who book first.
Once our quota has been obtained, we will be unable to accept any new booking requests.
If you have decided to go for Hajj in 2023, you should make your reservation as soon as possible to ensure that you do not miss out.
To make a reservation, You can send your passport copy & 1 passport size photo by WhatsApp to us on 

+971508474794

or by email us to info@regaluae.com
Please remember to mention, "Hajj Booking "
Please include your mobile phone number in all correspondence to ensure a timely response.
Note: Only those with a previous ban or blacklist issue in the Saudi government's immigration records will be denied a Hajj visa; otherwise, the visa is guaranteed.
AED 40,000 is for the Hajj package 2023
A minimum payment of AED 20,000 is required to accept your booking for Hajj, and the balance must be cleared in full by May 14th, 2023.
If the balance is not cleared in full by the 14th of May 2023, we will be unable to guarantee your Hajj booking for 2023, and the AED 20,000 paid will be non-refundable.
Payments can be made in person at our Dubai office or via bank transfer.
We will send you the online and offline payment methods as soon as you have sent us your passport copies for your Hajj booking.
A highly experienced Hajj Ameer will accompany you on your journey to guide and assist you at Hajj locations and procedures.
We will also hold Hajj preparation classes for you 2 weeks before your departure from the UAE.
This package lasts 17 days. If you want to do the Hajj in fewer days, you can leave from Dubai late or on any date closer to Hajj that you want and join your Hajj group in Saudi. You can also return to the UAE once the Hajj is completed.
However, if you want to have a customized travel schedule that is not included in our package, you must purchase the UAE to Saudi return air ticket on your own.
And no amount shall be deducted from the AED 40,000 because, whether you use or do not use the services included in the package, arrangements and payments are made for the group's travel as a package.
This is a complete package that includes all of your necessary expenses.
Aside from that, you do not need to carry more than 1000 AED in your pocket for personal expenses.
You will also have to pay an additional amount for Qurbani (Udhiyah) while staying in the Mina tent, which must be done with your hand. This amount is not part of the package.
This schedule is subject to change as per the Islamic calendar and you will be notified about the same.
If the Dubai or Saudi governments announce any additional government fees at a later date, they will be added to this AED 40,000.
So far, no additional fees have been announced by the aforementioned countries.
Regal wishes you a blessed and successful Hajj.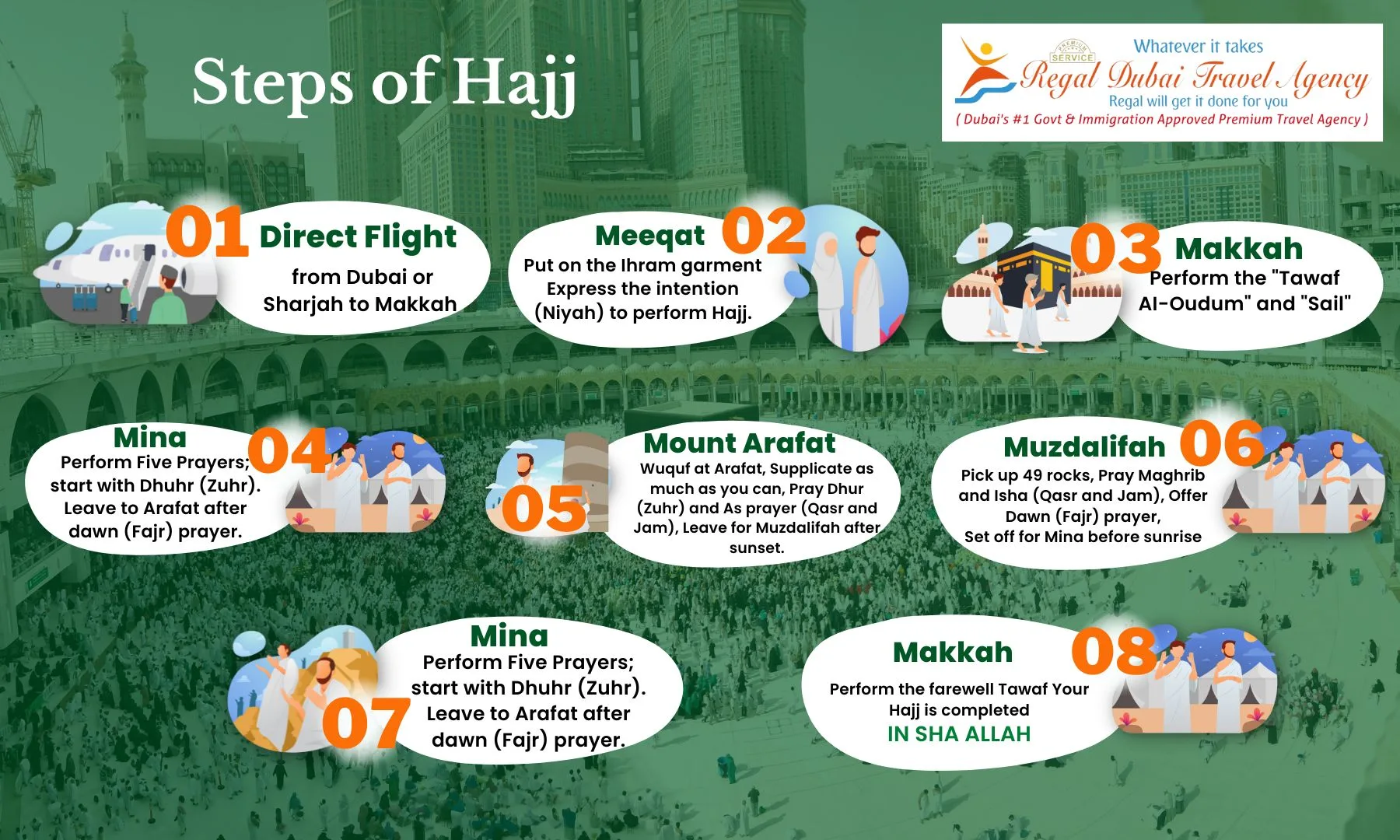 If you have any more questions or if you need any further help, please call us any time you want, or send us a WhatsApp message or send us an email

.

All our office emails are guaranteed to be replied to within a maximum of 1 business hour.
You can use the below query form to get in touch with us.
If you have any more questions, please call us or WhatsApp us or email us or use the below form
FAQ for Hajj 2023 package