60 Days Dubai Job Seeker Visa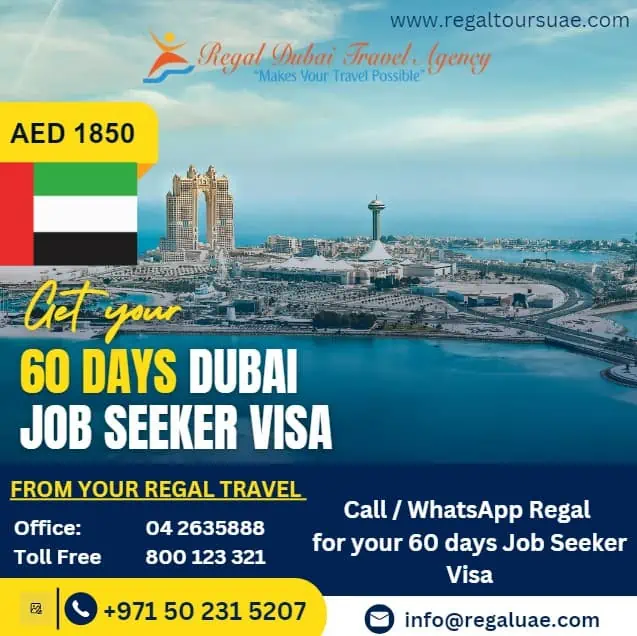 60 Days Job Seeker Visa Dubai
If you are looking for employment opportunities in Dubai, the 60 days Dubai Job Seeker Visa is a great option for you. This visa allows you to stay in Dubai for 60 days to find the best job opportunities. Regal Tours will help you to get Dubai Job visas.
This Job visa is a single-entry visa, which means that once you enter Dubai, you cannot leave and re-enter using the same visa. If you need to leave and re-enter, you will need to apply for a new visa.
To obtain a Dubai Job Seeker Visa, you will need to provide the necessary documents, such as a passport, passport-sized photographs, and a copy of your return ticket.
---
It is important to note that the Dubai Job Seeker Visa does not allow you to work in Dubai. Once you have secured a job offer, your employer will be responsible for sponsoring your work visa.
What documents are required to get 60 days Dubai job seeker visa?
How much does it cost for 60 days UAE job visa?
How long does it take to get 2 months Dubai job seeker visa?
How do I apply for 60 days job seekers visit visa?
You can now apply for 60 days Dubai job seeker visa online with Regal Tours, our convenient online visa service will save your time and energy.
You can simply send your passport, 1 passport size photo and Qualification Certificate by WhatsApp on 

+971508474794

or by email to  info@regaluae.com.

Once

your

visa

is

issued

,

you

will

receive

your

visa

in

PDF

format

 by 

WhatsApp

or

email

.
How do I pay for 60 days Dubai job seeker visa?
How do I verify & confirm the authenticity of Dubai UAE Visa?
If you have any more questions or if you need any further help, please call us any time you want, or send us a WhatsApp message or send us an email

.

All our office emails are guaranteed to be replied within a maximum of 1 business hour.
You can use the below query form to get in touch with us.
If you have any more questions, please call us or WhatsApp us or email us or use the below form
FAQ for 60 days Dubai job seeker visa